Connections modernises its stores with the
Zebrix
digital signage solution.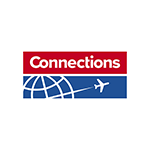 Connections uses the Zebrix solution for its in-store digital signage displays.
Belgian travel agency Connections has teamed up with Zebrix to manage the content of its in-store digital signage displays. Using Zebrix technology, agencies are able to promote special offers or services to their visitors as they enter the store. The Zebrix solution has also provided the expertise to implement synchronised screens to provide a tailored experience with video walls to enhance visitor engagement at Connections branches.
50 Samsung screens based on Tizen technology, multiple Samsung video walls and Samsung high brightness video displays

Belgium
Want to learn more about Zebrix ?
Take advantage of a 20' demo with a Zebrix expert to discover all the benefits of the solution