WFS adopts Zebrix-driven digital signage to improve internal operations.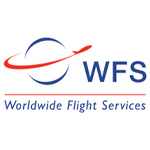 Optimizing Baggage Transit at WFS through digital signage.
WFS, a leading player in the aviation industry, faced the challenge of efficiently managing baggage transit in high-demand airports. They needed a solution to display real-time flight, cargo, and duration information for their workforce in the transit zone. WFS partnered with Zebrix and Solufak to implement an innovative solution. Zebrix's dynamic signage software seamlessly showcased flight details, cargo types, and cargo progress on strategically positioned screens within the transit zone. Employees now access to real-time information optimized task organization and enabled efficient management of the baggage transit process. WFS staff is empowered by real-time data to make informed decisions, leading to improved productivity. Solufak's expertise ensured a smooth implementation process, seamlessly integrating Zebrix's solution into WFS's existing infrastructure.
Want to learn more about Zebrix ?
Take advantage of a 20' demo with a Zebrix expert to discover all the benefits of the solution