Zebrix provides an easy to use integrated digital signage system for Lidwina.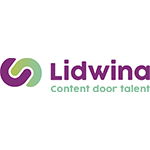 Empowering Corporate Communication with Zebrix at Lidwina.
Lidwina, a specialized agency in professional reintegration in Belgium, faced the challenge of enhancing corporate communication in their offices. The agency turned to Zebrix's dynamic signage solution to meet their unique requirements. Zebrix's user-friendly platform allowed them to display up-to-date company news, facilitate office navigation, promote internal events for increased team cohesion, and integrate weather announcements for enhanced user experience. With Zebrix's implementation, Lidwina experienced improved corporate communication and employee engagement with real-time company updates. Enhanced office wayfinding, reducing confusion and maximizing productivity. Strengthened team bonding through the promotion of internal events. Seamless integration of external APIs, offering additional value to employees.
Want to learn more about Zebrix ?
Take advantage of a 20' demo with a Zebrix expert to discover all the benefits of the solution